Gameschooling is great for learning math, storytelling, geography, science, pattern recognition, spatial planning, and thinking ahead - not to mention cooperation, turn-taking, and being a good sport!
I'm Beth, a homeschooling and gameschooling mom of two kids, currently in grades 1 and 3. We love to learn through games!
We have a pretty big collection of games at home, and our kids have been playing games with us for years. I'm not talking Candy Land here, nor thinly veiled "educational" games. I'm talking beautiful, amazing, modern board games that are fun for ALL of us and happen to link to a learning objective or ten.
Gameschooling is great for learning math (so much mental math in games), storytelling, geography, science, pattern recognition, spatial planning, and thinking ahead - not to mention cooperation, turn-taking, and being a good sport. We have even started to see our older kiddo teaching our younger kiddo new games, and the patience and ability to teach others new things is also a wonderful skill to build!
These are some of our favourite gameschooling games, in very rough age brackets (all kiddos are different!)
Above: Just One (courtesy of @BoardGamesWithBethBrains on Instagram)
Kindergarten
Dragon's Breath - This one has great table presence, with a glittering "ice tower" of gems! It features making predictions based on observations and counting to 30ish, and it also introduces the core game mechanic of drafting.
Ticket to Ride: My First Journey - A no-reading-required, simplified version of the classic game! Never too early, right?
Just One - Winner of the coveted Spiel de Jahres (Game of the Year), easily adaptable to play with Kindergarteners with a little co-conspiring with an adult player. Great practice with handwriting and creative, lateral thinking.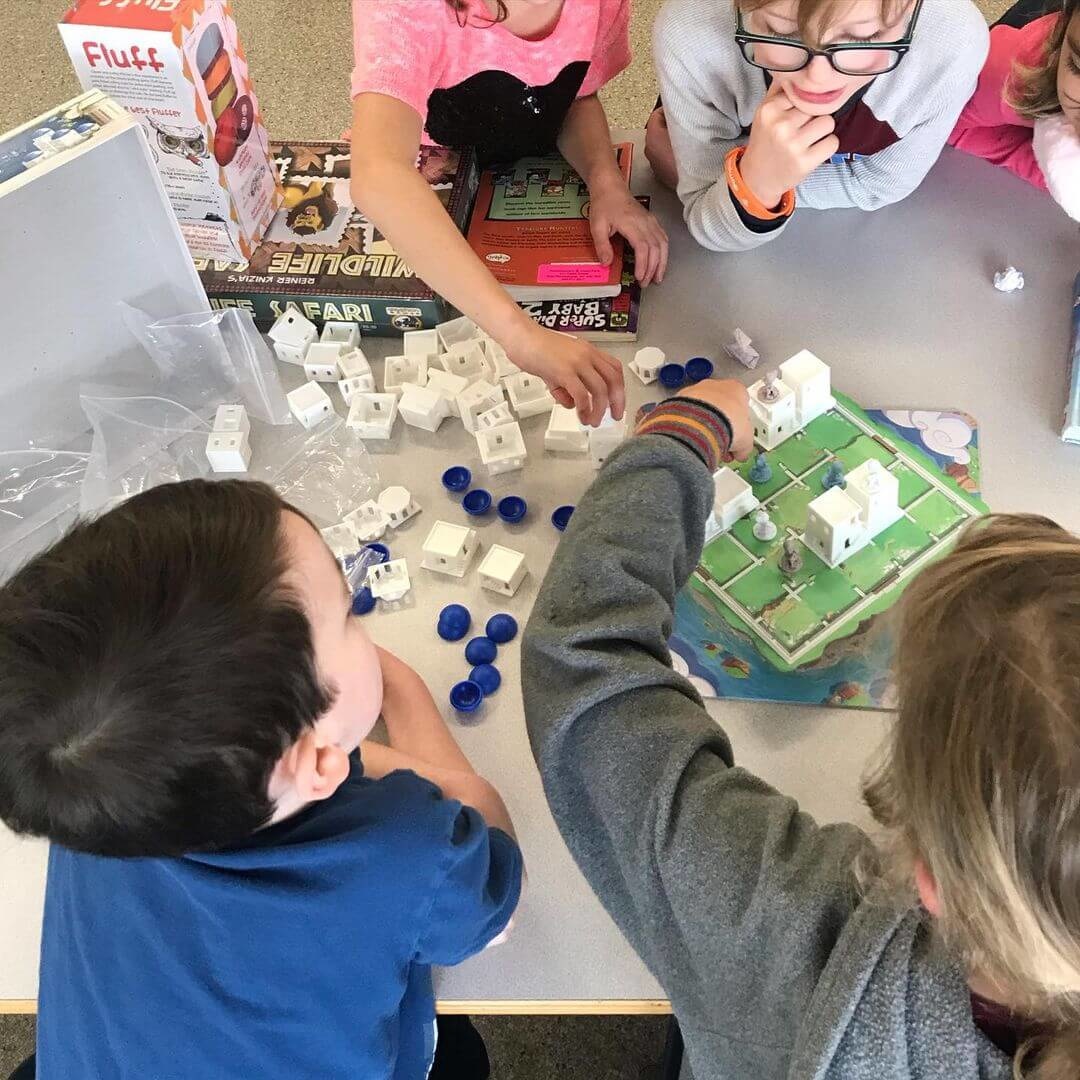 Above: Santorini (courtesy of @BoardGamesWithBethBrains on Instagram)
Lower Elementary
Sleeping Queens - A fast-paced card game with heavy reliance on a "take that" mechanism that may or may not work well for your kiddos. It's great math practice that can be easily scaled and adapted to different levels.
Kingdomino - Another Spiel de Jahres winner, featuring pattern matching, spatial planning, and more drafting. The best part of this one, though, comes at the end -- tallying up your scores is all simple single-digit multiplication and then some double-digit addition. Fantastic math practice!
Incan Gold - A fun "press your luck" game that features division with remainders. Great math practice with shiny gems!
Camel Up - A silly, family-friendly romp based on predicting the winner of a camel race. You'll never notice that you're talking about probabilities.
Dinosaur Tea Party - A modern take on "Guess Who" with incredible art featuring what else -- Victorian dinosaurs at a tea party! Deduction has never been so proper. 
Odin's Ravens - A two player, head-to-head hand management game with beautiful art. Strategy, planning, and a little bit of luck, all loosely based in Norse mythology.
Santorini - A modern, chess-like-but-simpler two-player (or four-player) battle with stunning table presence. You can learn the core game in less than a minute, but with the optional player power cards, there's a ton more variability available.
Onitama - Another modern, chess-like two player battle with a twist -- the moves available to you change throughout the game. 
Untold: Adventures Await - This one is sort of a guided roleplaying game. It puts some framework around the classic "Rory's Story Cubes" to guide you through creating an epic tale together.
Wing It! The Game of Extreme Storytelling - Another storytelling game, this one features problem-solving in ridiculous situations by using 3 of the 5 "object" cards in your hand. Part MacGyver, part Roald Dahl, all ridiculous and fun.
Carcassonne - This tile-laying classic is so streamlined, it doesn't really need a "junior" version. One exists, but I never bothered with it. For younger players, simply leave out the farmer mechanic and you're good to go. They'll grow into the full rules!
Catan: Junior - Another classic, this time with a Junior version that's worth it for the littles. Strategy, planning, resource management… it's a great way to learn some key game mechanics.
Forbidden Island - This one is pretty much a junior version of Pandemic, the classic and quintessential cooperative game. Given the times, I'm glad that this family-friendly coop features a much different theme to work together to overcome -- a sinking treasure island!
Upper Elementary and beyond
These are titles I play with my partner - with or without the kiddos!
Ticket to Ride - The full-fledged classic has grown into a library of maps inspired by various regions all over the world. Pick a map, lay down your adorable plastic trains, and scratch that wanderlust itch. (Note that some are standalone, and some require the North American or European edition as a "base.")
Evolution: The Beginning - A light card-based game inspired by animal adaptations to avoid predators. It requires a decent amount of planning and strategy to succeed.
Point Salad - A drafting game heavy on the mental math, where your scoring criteria evolve throughout the game. And it doesn't hurt that it makes vegetables fun!
Dixit - A more grown-up storytelling-inspired game, where the "stories" can be a single word long! The game is essentially a bunch of cards with stunning surrealist art. Play the rules as written, or get creative and tell deeper stories inspired by the wacky images.
Azul - This is the game that made me truly fall down the rabbit hole of modern board games. Gorgeous tile-laying abstract strategy game that is somehow both meditative and cutthroat.
Lanterns: The Harvest Festival - Another straightforward abstract strategy game featuring pattern recognition and spatial puzzling.